G.O.A.T
An acronym thrown around relatively casually on the internet, sometimes in earnest but often in jest, the moniker Greatest of All Time is always subjective. No matter the sport, or any arena in entertainment, politics or business, people will always be able to argue who was truly the best to ever do it. In soccer, the debate has been raging for decades and will continue to divide opinion for decades to come. However, Lionel Messi's blistering start to the 2017/18 campaign is not merely an opinion; it is a cold, hard fact.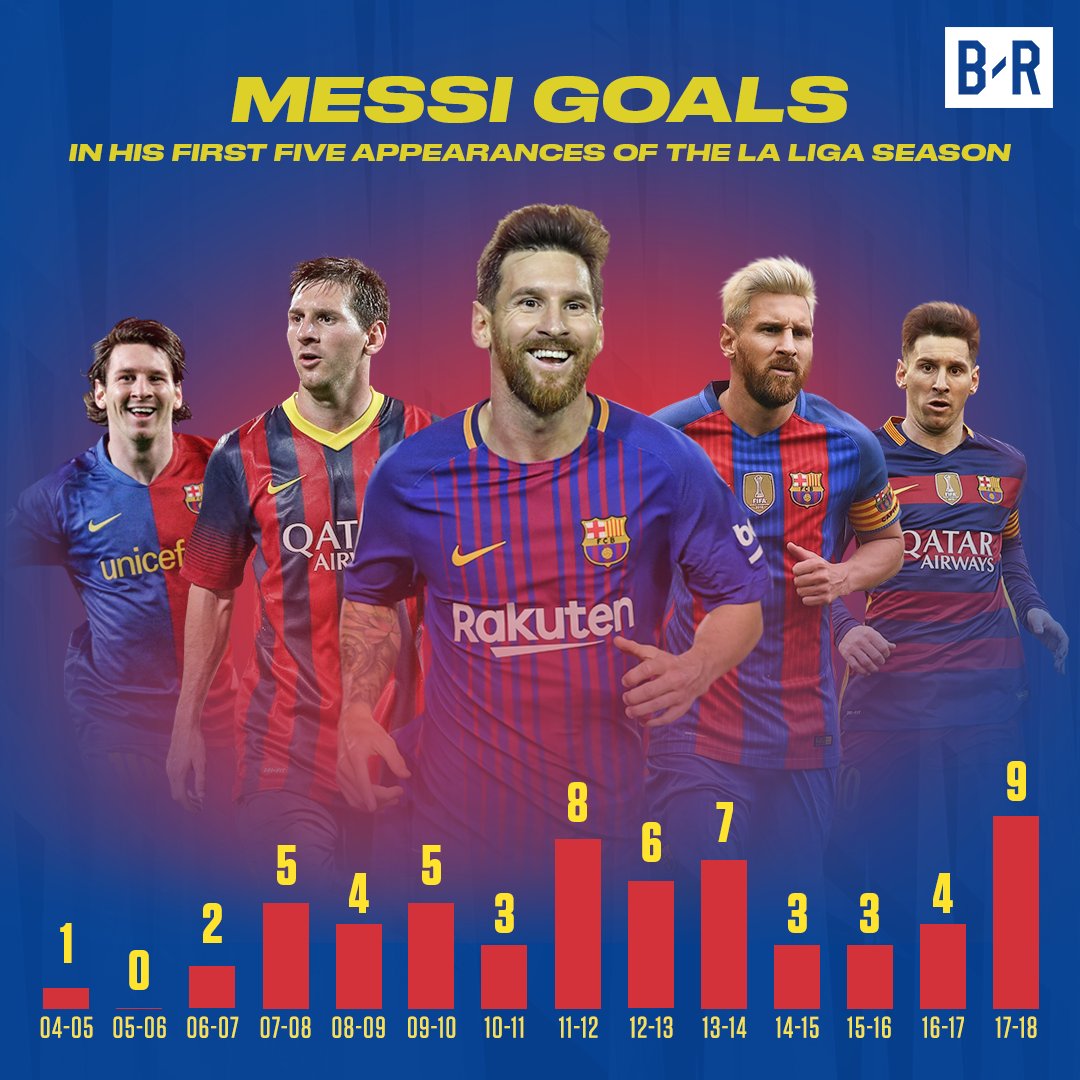 This graphic from Bleacher Report perfectly encapsulates just how historic this start has been for Lionel Messi personally. Though he has now played a sixth game (and didn't score), 9 goals and an assist through six games is off the charts, even for him. In thirteen total games for Barcelona this season, those numbers rise to 14 goals and 4 assists. Truly remarkable numbers for a 30-year old with over a decade of top club experience. He has now played over 500 games, between Barcelona and Argentina, and he still looks as fresh as a teenager on the pitch, with no signs of weary legs or a gradual decline that eventually befalls even all-time greats.
What has accounted to this magnificent start?
Many people posit that it could be some residual anger directed at Neymar, whose ugly divorce from Messi and Barcelona graced hundreds of headlines in every major news outlet on the planet this summer. No doubt Messi absorbed much of it, and has gone out to prove this season that he, and by extension Barcelona, don't need Neymar to be successful. And though it is still very early, the returns have proven that that may in fact be the case: 6 wins out of 6, 20 goals for to a mere 2 against, utterly dominant in all facets of the game. Barcelona have already opened up a 7 point gap on Cristiano Ronaldo's Real Madrid, the former struggling early with injuries and form.
Despite losing a world-class talent in Neymar, Barca actually look better than they have in some time, which is not what some people expected. Much of this can be attributed to the new manager Ernesto Valverde, but also to the fact that losing such a ball-dominant forward has actually freed up the team, Messi included. The left back Jordi Alba is having a mini-Renaissance on the left side of the field, now that he actually receives the ball in good positions to cross. And Messi himself has become the absolute, undisputed focal point of the attack as he was several years back, when Neymar was more deferring, and the team was essentially unstoppable.
There are some haters out there who want to attribute this epic start for Messi as a fluke, thinking he will eventually cool down and come back to Earth. And they aren't entirely wrong; his goal scoring and assisting clip per 90 minutes will almost certainly shrink as the season extends. However, it would be utterly foolish of anyone to think that a player as historic and unique as Lionel Messi, a five-time Ballon d'Or winner and undisputable legend, could not maintain this epic pace for an entire season. After all, he has already done it several times before.
Why can't he do it again?